The last year and a half have been anything but normal. Especially for the orphans we serve together around the world. And that makes this year's Orphan's Wish List even more critical.
This Christmas, will you make a gift to help an orphaned child thrive through this pandemic and past it?
Their wish list might not look like the wish list of a child you know. But it's what "the least of these" dream of, pray for, and are asking for this Christmas.
Here are two ways you can tell an orphaned child they're loved and help them feel cared for and confident heading into 2022.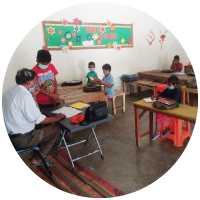 Education is a blessing to an orphan who never imagined they would be able to go to school. Can you invest in an orphan's future with a gift toward school supplies? Your support will help a child feel confident on their first day of school with a backpack filled with necessities, like books and school uniforms.