We're nearing the end of our fiscal year, and we have a big goal to reach.
When it's crunch time, when these children desperately need to rely upon a helping hand, we know who they can count on. They can count on you.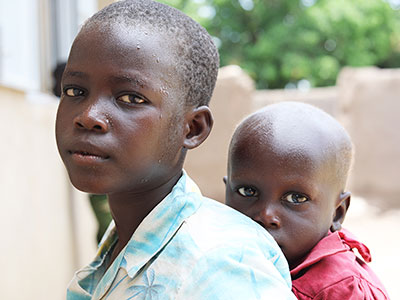 Your support of Kinship United protects tens of thousands of orphaned children in Kinship Projects around the world. To be a little more specific, that's nearly 25,000 orphans and widows served in rescue, food, and medical programs in upwards of 50 projects in 9 different countries. Numbers, even more than pictures, can speak a thousand words.
Yet there is a number more important than any other: 1! You are the "one" who chooses to make an impact. You, and all of the values, experiences, and motivations that exist within you. Out of all these numbers we take pride in upholding and growing, you are the "one" number that matters the most.
How It Started
You may have begun your journey with Kinship United because God called you to care for orphans and widows or because of the high standards we hold in financial accountability. Whatever inspired you to support our mission, you are reading this today as not only a supporter of these children, but also as their life-saver.
You have joined Kinship United's mission because your heart drives you to protect children who have nobody else to fight for them. Before our fiscal year closes out, will you extend your generosity and continue to protect these kids who need your support so desperately?
We are praying to raise $10,000 before June 30th – the end of our fiscal year – to help these Kinship Projects continue doing what they do best: rescuing and protecting children.
The Impact Your Gift Can Make
When you donate today, you'll go beyond providing food and shelter. You'll provide orphans and widows with a sense of love and dignity they've never known before. Will you help, in any way you can, and join our fight to provide the bountiful lives these orphaned children deserve?
You bring together "the least of these" who have had their lives destroyed by war and tragedy, giving loving homes and bright futures to orphans and widows. You provide 24/7 care for thousands of children and places of belonging for widows.
Kinship Projects that rescue, shelter, and care for desperate and vulnerable orphans must be bolstered with your support in order to keep up with their daily struggles and needs. Remember those big numbers from the beginning of this letter? Each Kinship Kid must be fed three times a day, clothed, washed, sheltered, educated, and welcomed into a life-long relationship with the Lord.
Please make a gift to Kinship United before June 30th and show these kids you won't give up on them and that you are the "one" they can count on.
Thank you for your boundless generosity in support of our mission, and your commitment to these children.
Sarah Belch
Orphan Rescue Advocate
Kinship United
P.S. If you haven't already joined our faithful team of monthly supporters, would you consider making a life-changing gift every month? Set up your monthly give here, and become someone these kids can truly rely on.