Education for Girls: One Way You Can Change the World
Published September 27, 2016
16 year old Nazziwa has loved education her whole life. It's always been her dream to study to become a nurse. But tragically, the many hardships in Nazziwa's life have stood in the way of her completing her dream.
How so?
Nazziwa was raised by her father and her stepmother. She spent years believing her stepmother was her real mother, even though her stepmother treated her cruelly, and favored her other siblings over her. When Nazziwa finally questioned whether or not this woman was really her mother, she was beaten, and driven out of her home by her stepmother and father.
Nazziwa hasn't gone home since. And she hasn't seen her father for 3 years. 
And she never went back to school.
If Nazziwa never returns to school, she will never be able to pursue her dream of becoming a nurse. And the more time that passes, the more she believes that both finishing her education, and fulfilling her dream, will be impossible.
The world is full of stories like Nazziwa's. In fact, worldwide, there are 62 million girls under the age of 18 who are currently not being educated (Let Girls Learn). Imagine, 62 million stories that have the same ending as Nazziwa's: She never went back to school.
Why Aren't Girls Getting Educated?
One of the simplest answers to this question is that still, in many cultures, educating girls isn't a priority. In countries where poverty is extremely prevalent, many parents have to choose which of their children will attend school, and for them, the obvious choice is one of their boys. So at the root of the problem is sheer gender inequality.
If women weren't seen as inferior to men, they would be allowed equal access to education.
Some of the things that keep women out of school are reasons those of us in more developed countries probably would never have even thought of. There are women who drop out of school because they don't have ways to hygienically deal with their periods! Still others don't feel safe walking the long distances to their school, because on the way they are at risk of being abducted or raped.
These are a few of the major issues that keep girls from finishing their education:
1) Early Pregnancy often keeps girls out of school. If all girls in sub-Saharan Africa, and East and West Asia were to finish their high school education, 60% fewer girls would get pregnant before the age of 17. Girls who stay in school are less likely to be pregnant. And girls who don't get pregnant while in school are less likely to drop out.
A lack of education on sex and contraceptives is a common problem among women in the developing world. Many women haven't even had someone explain to them what their period is before it happens. This lack of knowledge about sex and how to have it safely, as well as a lack of access to contraceptives, contributes to girls getting pregnant so young, as well as the spread of sexually transmitted diseases.
Better and more education is a way to combat girls becoming pregnant so young, as is involvement in Christian churches and communities, and exposure to good role models.
2) Child brides are almost always denied an education, or have their educations cut short. In the developing world, one in three girls are married before their 18th birthday. That's an incredibly high number of girls to be married so young. And this phenomenon of child marriage is a big contributor to keeping girls out of schools.
One story shared on by Child Not Brides details the rational of a man who married his daughter off at a very young age without sending her to school. He said that there was no point in educating her, because she was simply destined to be another man's wife. Once she was educated, she would simply take the value of that education to another man's house. What good did educating her do him, her father seemed to ask? She could marry whether or not she had an education.
When another man was asked whether or not he consulted his young bride on what she wanted before asking her parents if he could marry her, he responded with, "Why should I seek her opinion? A woman has no voice in this matter."
3) Women are simply not valued equally to men. And this sort of rational is deeply troubling. At the core, the philosophy behind it is the main thing that keeps women out of school. Flat out societal gender inequality. The idea that women have no voice in matters that very much affect them. And as long as women are believed to be inferior to men in any way, women and the whole of society will pay the price for it.
Women deserve the same access to education that men do. And giving it to them is beneficial to everyone.
So What Difference Can Education Really Make?
All the difference.
First of all, we essentially owe it to the 49.6% of the population who are women to make sure they get an education. To educate a girl can change the course of her entire life. It helps keep her from pitfalls like child marriage and early pregnancy, which so often stand in the way of a completed education, and don't allow women to make choices that determine how the rest of their life will be lived. Too often, these decisions are made for them.
Too often, they are given no voice in the matter of their futures.
The ripples that an education can make in a woman's life are incredible. Educating women cuts down on human trafficking, as it makes girls less susceptible to those who would prey on their economic vulnerability. If they are educated, they are more capable of supporting themselves. They don't have to turn to those who might be predators for support.
And beyond that, there are countless other differences that educating girls can make for women personally, and for society as a whole.
Here's a quick look at the statistics of the difference education makes:
Girls who finish high school are six times less likely to get married as children. (Let Girls Learn)

60% fewer girls would get pregnant while under the age of 17 if they were to receive a high school education. (Let Girls Learn)

An extra year of secondary schooling can increase a girl's future earnings by 10-20%. (Senate)

If 10% of a nation's girls attend school, then a country's GDP increases by an average of 3%. (Senate)

In a study using data from 219 countries, it was found that for every additional year of education for women, child mortality decreased by 9.5% (UN Women)
The statistics are astonishing.
Educated women have smaller families, healthier children, and are more likely to educate their children. To educate women is to work towards ending the cycle of poverty.  Empowering 50% more of your population is a smart move. 
In the words of Sheryl WuDunn, "Women are not the problem, they are the solution."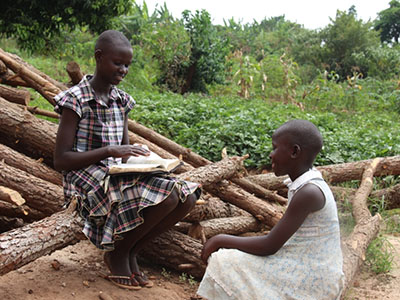 Because on top of those statistics, educating girls also makes sense economically. Countries who are not educating their women are underutilizing nearly 50% of their human resources.
When you think about it that way, isn't it crazy?
Educated girls affect the future of their country positively.  At the 2016 U.S. Senate hearing on the barriers to global education, Susan Markham outlined the statistics on how beneficial educating women can be for the future of a country. Among many things, she explained that an extra year of secondary schooling can increase girls' future earnings by 10-20 percent and if ten percent of a nation's girls attend school, then a country's GDP increases by an average of three percent.
And that's only 10%.
Imagine how much good educating an even higher percentage of a nation's girls would do? Educating girls is undeniably a good economic strategy.
Conclusion
Allowing a girl access to education is to expand her world. To educate a girl is to open up a range of possibilities that are otherwise out of her reach. She is given agency, the ability to control moving pieces around her and to shape her own future.
She is no longer being swept around by outside forces.
But then there's more. Because educating girls expands the whole world. To make sure that women are educated affects everyone. It improve society, it enhances the economy.
Equal access to education changes the entire world for the better.
Kinship United works hard to empower and equip the many women we work with to control their own futures. The girls and boys in our Kinship Projects are given equal access to education, and the children attending school is an incredibly high priority. We believe that all children have the right to learn, and should be given access to this right. (You can help send even more Kinship Kids to school by making a gift right now!)
The girls in our Kinship Homes are never married at young ages. Instead, they are given the chance to finish their educations, and then make decisions for themselves once they are adults.
Kinship United is committed to helping empower older women as well, many of whom were unable, usually for the reasons already discussed, to finish their educations when they were young.
Our Bakery Outreach program teaches women valuable skills that help them support themselves and their children. Through their newly gained baking skills, they are able to feed their kids and take care of themselves with dignity.
These programs help rewrite the stories of girls like Nazziwa. They ensure that the end of these stories won't be "and then she never went back to school." Education transforms lives, and we need to make sure these girls are given a fair shot at it.
Because to educate a girl is to change her world, and consequently the world around her, forever.