A young jigger is nearly invisible. The parasitic bug burrows into a person's skin and latches onto blood vessels. Within days, it swells to over 1000 times its size, laying eggs outside its host's body. Shortly after, the infestation brings pain, bleeding, itching, and infection. It's difficult to eat, sleep, and walk. Children stop going to school. Adults can't care for their families. The elderly become captive in their homes. Worst of all, due to widespread cultural beliefs, people infested with jiggers are often shunned for the "curse" painfully visible upon their bodies.
After investigating premature deaths and finding thousands of blood-sucking insects on the bodies, a healthcare worker in Northern Kenya discovered a horror story in the making. Several displaced and refugee families, plagued by famine and poverty, were under attack by jiggers.
In total, over 100 people, including children, were completely infected. The community lives in hand-made mud huts, where insects thrive. There is no government intervention and no relief food.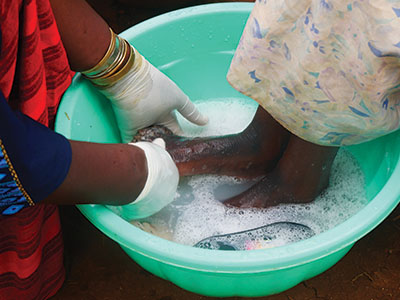 You enabled Kinship United to come to the rescue. Impossible without your help, Kinship volunteers and Kinship Alumni formed an emergency response team and hosted a treatment camp that lasted five days.
The Kinship Alumni and volunteers suited up in gloves, aprons, surgical masks, and other infection-control gear. Each affected person was individually treated. Removing a grown jigger is a painful process that requires a small scalpel. The Kinship volunteers also cleaned walls and floors of the families' homes, and disposed of infested clothes, bedding, and mattresses.
Over one hundred people, including 59 children and many elderly folks, suffered the horrible, bleeding pain of jiggers. Each one left the clinic with a smile.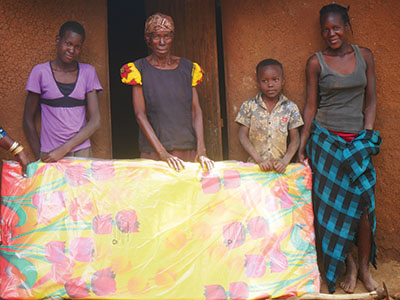 Your support treated over a hundred people, relieving them from horrible pain. And your gifts didn't stop there. Clothes, bedding, Crocs shoes, and new mattresses were given to families, some of whom have never afforded a mattress before.
Elizabeth, our devoted in-country partner in Kenya, was so grateful for your emergency support.
"You made it possible for us to treat more than a hundred jiggers-infected people, some who could not walk because of the jiggers," Elizabeth said. "I pray that God may continue using you to continue touching lives. You've truly made a difference by your love, and you have given smiles to many."
Thank you for responding to this emergency. Prayers are needed for perseverance, wisdom, compassion, and healing.