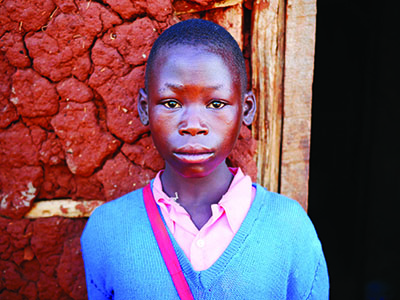 Sarah is 13 years old, and she carries the weight of the world on her shoulders. Though she lives with her mother and three younger siblings, she feels like she has no one to help her in this world. Without someone like you, her future is bleak.
Sarah's father died just a couple of months ago after a long and debilitating illness. Her mother is mentally ill, unable to do anything to provide for or care for her children. So, the burden to put food on the table for this family of five falls on Sarah's shoulders alone. Every day is a battle just to survive.
Look at this young girl's face. You can see the fight in her eyes and the potential she has.
Every morning, Sarah wakes up bright and early to make it to school for the morning, but she has to leave early to go to work on her neighbors' small farms. It's back-breaking work, and the pay is terrible. It is not enough to provide for her family. After an exhausting afternoon in the fields, Sarah walks from house to house asking if anyone needs help with their laundry or cleaning – usually, she's turned away.
The Manasseh Kinship Project in Kenya is located in the same village as Sarah and her family. Kinship leader Pastor Martin reached out last month to bless the four children with new clothes, but Sarah and her siblings need a miracle. They need someone to take care of them so they're not hungry all the time, so they can go to school and most of all, so they can just be kids.
Donate to Orphan Rescue and Care, and 100% of your gift goes to kids like Sarah and her siblings. They need you today!