International orphan care is a complicated and sensitive topic. It's tempting to believe that everyone with good intentions and a sincere heart can go out and make a positive impact. Unfortunately, it's also easy to do more harm than good. That's why a careful set of guiding principles is necessary to direct the decisions that'll affect orphan's lives.
Here are five guiding principles that we at Kinship United are striving for as we seek to find the best gospel-centered solution for orphaned and vulnerable children:
1. Family reunification and Kinship Care
It's in the best interest of an orphaned child to stay in a family. Either with a remaining parent or extended family members who can care for them.  When there's no biological family willing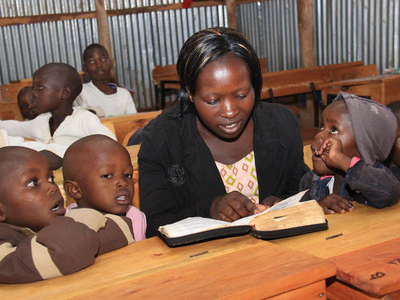 to care for the child, the community of a Kinship Project, located in or close to the village where the child grew up, provides the best environment for care. This group of people in their village is known as their "Kinship."
2. Orphans and widows together
It's best for children to have emotional and physical needs met by adults who love them. Where appropriate, the Kinship Project pastor and his wife share this job with local widows in the community. For the health of everyone, there's at least one caregiver for every 5 children.
3. Healing and restoration
Children with trauma or attachment issues can find healing through emotional bonding with a caregiver, especially a widow. They can also find healing through the therapeutic experience of joining in worship services. We don't encourage individual child sponsorship, as that can impede the attachment process to caregivers. Rather, we come alongside the caregivers in the Kinship (the community of the children) and join in seeing these children healed and restored.
4. Accountability and transparency
A Kinship Project operates best when there are responsible, trustworthy adults (the pastors and caregivers), who are transparent and accountable to their supporters and leaders.
5. Cooperation, not competition
Kinship United can more efficiently help children in need when we cooperate and coordinate with other ministries on the field, emphasizing local needs, resources, and ownership of outcomes.