Occurrences of increasing temperatures, extreme weather, and natural disasters are on the rise. And when these tragedies happen, they put additional stress on already-struggling families who are living in poverty. We see this happening in real-time as we help those around our Kinship Projects. An example of this just occurred in Phnom Penh, the capital of Cambodia.
Recently, the city was hit by a heavy rainstorm that caused extensive flooding, resulting in a lack of food and other resources.
Fortunately, a Kinship Cambodia youth leader and photojournalist, Samuel, was on hand to document the damage. When he was asked why he was taking photos instead of helping to distribute food, he let the local authorities know that he was a church member of the Chom Choa Kinship Project and that his pastor could help.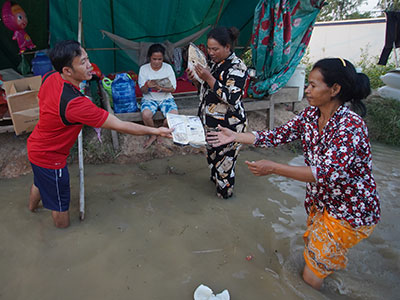 Pastor Jack was contacted by the local authorities telling him that they needed emergency food right away. He immediately loaded up their truck with MannaPack meals (provided by donors like you!) and took them to the flooded area. The meals were distributed to desperate families in need, many of whom were stuck in their homes. Thanks to the quick response of Kinship Cambodia, the people of Phnom Penh were able to receive much-needed food and other resources in the midst of their disaster.
By being able to respond swiftly and efficiently to the crisis in Phnom Penh, Pastor Jack and the Chom Choa Kinship Project provided desperately-needed assistance to those affected by the flooding. Kinship Cambodia is a great example of how people can come together and make a difference in times of difficulty.
And you made it possible!
Your support is essential to our mission. Every donation helps provide vital resources and enables Kinship Leaders to continue their life-saving work, especially when emergencies happen! Pastors like Jack need to be able to jump in to help at a moment's notice while the emergency is actually happening. Your contributions can make a real difference for those living in poverty in Cambodia and meet people where they are in their times of greatest need. Can you make a gift today?
Additional Flood Outreach Photos