On a beautiful spring day in Chom Choa, Cambodia, the ministry from the Chom Choa Kinship Project arrived in the downtown plaza to distribute food. Dozens of families and individuals in this impoverished community came to receive the food distributions, all of them happy and thankful for this blessing.
Srey Pin, one of the ministry members from the Kinship Project, is a young woman who also serves as worship leader on Sundays. While she was handing out the servings of rice to the community, she was delighted to see the smiles on everyone's faces.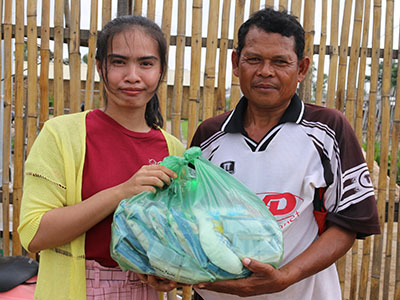 Then she noticed one man who wasn't smiling at all. She could sense his sadness. He received his food, didn't say a word, and then went to sit under a nearby tree, alone.
Led by the Holy Spirit, Srey Pin went to meet this man. She sat under the tree beside him and asked him his name.
He said his name was San Sokha. And he told Srey Pin why he couldn't smile.
San Sokha grew up as an orphan in a trash dump community built on a landfill. He got married as soon as he was old enough. Both he and his wife worked at the trash dump as trash collectors. They had no children and no other family. Then, one day, a drunk driver killed his wife in a hit-and-run. The police didn't help him, they never caught the driver, and San Sokha received no justice for his wife.
San Sokha believed he deserved this misfortune and loss. He isolated himself from his community, living a life of loneliness.
Many in Cambodia believe that misdeeds in a past life bring bad luck. So none of his neighbors would speak to him. They thought his life was cursed, and so they avoided him at every turn.
But if his community was so afraid of the darkness surrounding him – why did Srey Pin sit beside him, under this tree?
He asked her why she approached him. Why would she care to when nobody else did?
Srey Pin had a simple answer. She told him, "I am a Christian, and God is the true love."
She told him that God has a purpose for all of us, and He wants us to live happy and hopeful, and He encourages us to help those in need.
She said, "You can find true love and hope in Christ."
Srey Prin handed San Sokha her personal Bible. He knew this kindness in her heart came from something special. So he promised he would read it.
Not long after that spring day, San Sokha began to announce himself as a Christian in the community. For the first time after years of depression, he finally felt love again. It's God's love that warmed him and inspired hope.
He visited the Chom Choa Kinship Project to find Srey Pin and thank her. He did not only find a relationship with God, but he also felt the motivation to serve his community. Srey Pin had given him a mission.
San Sokha became the local pastor in his small trash dump community. The power of God's word transformed a hopeless widower into a local pastor! His life changed when he opened his heart to Jesus Christ. He was bitter and unhappy, but now he's dedicated the rest of his life to being a Christian and a leader in his town.
We invite you to pray for San Sokha. Pray for the strength and wisdom of God to be with him as he leads the growing church in his town.