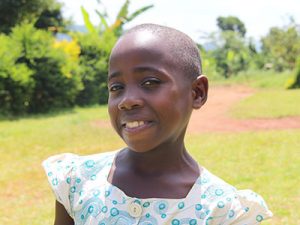 When Susan was brought into the Kyengera Kinship Project, she was covered in bruises and completely mute. Every time someone moved toward her she would flinch and instantly become defensive. Susan was very timid and shy around the other children, and rarely played with them. Instead she would keep to herself and watch them play.
Susan was scared. And to be honest, she had every reason to be.
When Susan was young her mother died. Shortly after her mother's passing, Susan's father remarried. As if this didn't sound enough like Cinderella, Susan's stepmother mistreated her terribly.
Susan became a subject of physical and verbal abuse. Every time she did something, Susan was reprimanded or punished. Through situations like this, Susan was taught she was never good enough.
In the beginning it was a slow process for the caregiver at the Kyengera Kinship Project to get Susan to open up, and it was only after she found comfort in music, drama and dance that her personality began to shine. After months of unconditional love and endless efforts to gain her trust, Susan has gained not only the ability to trust, but friends and a new family.
Susan is now one of the most active and confident children in the Kyengera Kinship. She sings in the choir and loves acting in the plays. After auditioning to act in a skit for the Parenting Conference at Church, she was cast in the main role.
At first there were a few concerns about the character she was to play, as the description was very similar to how her stepmother had treated her (a nagging woman who mistreated her stepchildren and disrespects her husband). Once she stepped on the stage, all worries were put aside as she left the viewers in awe of her performance.
What used to be a face that held sorrow and a broken spirit, is now a confident young girl with a bright personality and a lot of talent. Susan isn't the only child to come into a Kinship home with this background, there are hundreds of kids that you have helped. Thank you so much for giving these children another chance at having the childhood they deserve!