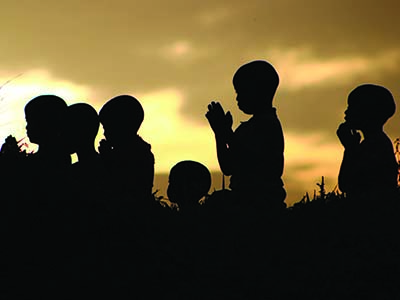 We at Kinship United have been over a year in lockdown with many staff still working remotely. It is our hope that with each passing day we are getting closer to the proverbial "light at the end of the tunnel" and ask that you remember us in your prayers as we continue to ensure as many children as possible have a safe and nurturing home.
As we shared with you last year, Covid-19 caused unforeseen circumstances, such as violence erupting in certain countries enforcing social distancing guidelines that were designed to protect people. Social distancing requirements also meant girls could not walk within groups, their typical safety measure. Sadly, economic hardships heightened women and girls' vulnerability to violence and exploitation outside their homes. People in areas we serve were not able to make a living, causing chaos that included robberies and lootings.
It is true that many emergency food and medicine supply lines have been restored, but children and widows still face perils, vulnerable not only to contracting Covid-19 but susceptible to natural elements, abuse, trafficking, and health conditions such as malaria and bacterial infections.
But every challenge is another opportunity and Kinship United staff around the world have risen each day believing, as Philippians 4:13 says, they can "do all things through Him who strengthens me."
One of our goals in 2021 is to serve even more orphans and widows. We will continue to seek out and rescue children like Bishara, whose neighbors alerted us that she was being abused by her parents during the Covid-19 lockdown. We are now taking care of Bishara as well as other children who need protection from violence during these trying times.
Please know that as a cherished supporter of Kinship United you truly are a hero, and we cannot thank you enough for partnering with us to serve orphans and widows around the globe.
Would you consider making a gift today to support Orphan Rescue and Care to help disenfranchised children beat the odds and survive the current pandemic?
Click here to donate now and keep kids safe through this Covid-19 pandemic.