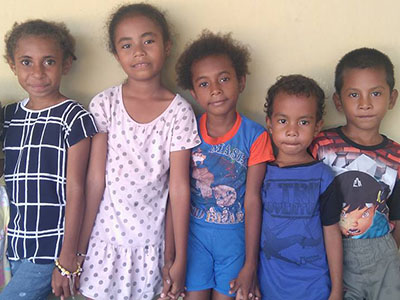 The Sorong Kinship Project opened in West Papua, Indonesia over a decade ago. It raised a generation of orphaned children. But when government regulations shifted, closing all residential orphan care facilities across the country, the Sorong Kinship Project had to adapt.
The Sorong Kinship Project became an early childhood education center, teaching young children and providing them with a hot meal. But they had to send these precious little ones home each night. All while knowing that some of them had no family or safe home to return to.
There were still orphans who were in desperate need.
Today, we are praising God that the Sorong Kinship Project is re-opening to once again be a home for these orphaned children. Kinship pastor Andreas and his wife Meliana will soon be bringing up to 20 orphaned children into their safe and loving home.
But before they can bring the children home, the Sorong Kinship Project needs a little bit of renovation. Some of the rooms have broken roofs and ceilings, tattered walls, and even broken floors. These desperately need to be re-painted and repaired.
In addition, Kinship leaders need to purchase and prepare beds for children that will soon live in this Kinship Project.
Can you help the Sorong Kinship Project re-open to these children? A gift of any amount will go towards the renovations they need, so the orphans can move in to a safe and wonderful home.