Living Proof – Your Gifts CAN Transform Lives!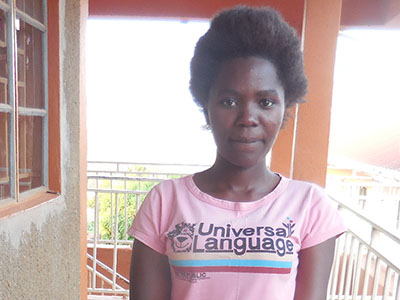 How do you know if this really works? You give and pray and hope – but how do you know whether or not your support is actually helping people for the long haul?  
Meet Sylvia.
Sylvia is the first Ugandan Kinship Kid to graduate from high school and go into a vocational training program. She's still studying her way towards a bright future!
Sylvia's father and mother both died of AIDS, and her grandmother was taking care of far too many children like her already, so she ended up alone on the streets. But thanks to generous people like you, Sylvia was rescued off the streets when she was ten years old and taken in to the Buwanda Kinship. There, she found a loving family and a chance to dream.
Your gifts and support set Sylvia on a course she never could have reached on her own. Most of the kids she knew before moving into the Buwanda Kinship got married before they were out of seventh grade. They've divorced, remarried, and some teenaged girls are already widows. They have no jobs, no futures, no hope.
But because of you, Sylvia has graduated from high school! Now, she's attending a vocational school studying fashion.
Sylvia says, "From deep down in the village of Buwanda, no one could think I could become what I am today… I have studied. I have grown in a safe, loving home. And now, I am doing a course of my dreams."
The sky's the limit for Sylvia - thanks to you! She is so grateful for you, and she fully intends to "pay it forward". Once she's able to become self-sufficient, she wants to give back to her home community and help others in need.
Transform the Life of Another Child Like Sylvia!
Support from generous donors like you put Sylvia on track for a future she never could have reached on her own. Will you do the same for another child?
Saving Orphans with Sass: See How This Nine-Year-Old is Making a Difference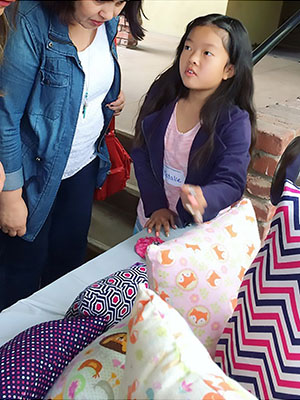 Natalie Chen is an ambitious and precocious nine-year-old (almost ten) who already has her own small business, and she's helping others along her road to success.
"Sassytude", Natalie's business, encapsulates her spunk and passion for life, and a third of its profits are going towards helping orphans.
You may be wondering how a nine-year-old even has a small business let alone donates to charity. You'll be even more surprised to find out that this isn't Natalie's first rodeo!
It all started when Natalie was six years old and was making bracelets with a loom kit she had gotten for Christmas. Her mom posted a photo of a bracelet she had made on Facebook, and a friend wanted to purchase it! After that, Natalie was flooded with requests from friends wanting to buy more bracelets. As she worked hard to fulfill all the orders, she was inspired to donate some of her proceeds to orphans.
Now, with "Sassytude", Natalie is sewing pillow cases, hair clips, and more. She finds inspiration from YouTube video tutorials and whenever she has new creations ready to share, she puts them up for sale. She recently got back from a family trip to Korea and is looking forward to making skirts out of a beautiful and unique fabric she picked up there.
We want to say a big thank you to Natalie, as she's donating 30% of her proceeds to Kinship United and other charities. What an inspiration!
How about you? What are the creative ways you're helping others? Share your stories by emailing info@kinshipunited.org.
P.S. Do you need some "sassy" inspiration? Natalie says just "look for your dream, and go for it!"

Multiply it Monthly
Dive deeper into what God calls "pure religion" by making a monthly gift to care for orphans and widows. Just select "monthly" when you donate online!
What's Eating the Bed Frames at Lodwar?
Life's not easy in Lodwar. The remote desert is in the middle of a drought, and conditions are some of the harshest in the world.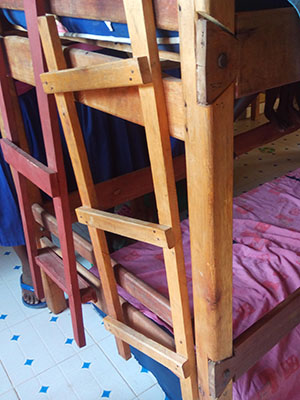 On top of the blazing sun, sand everywhere, and scarce water, they deal with another pesky problem: termites.
Lots and LOTS of termites.
Huge wooden doors and bed frames are no match for these little critters. They've been completely destroyed, and the Lodwar Kinship needs to replace them – this time with something the termites won't eat through: steel.
Will you help them? They only need $1,400 to replace their front door and bed frames. Give online now and you'll end their termite problems once and for all.
Fight the Termites at Lodwar with Steel!
Your gift will replace the wooden beds and front door at Lodwar Kinship that were destroyed by these pesky critters.