It's incredible to think that something as simple as a bed and a place to sleep can have such a profound impact on a child's life.
For Abigail (5), Praise (7), and Joyce (7), it means the world.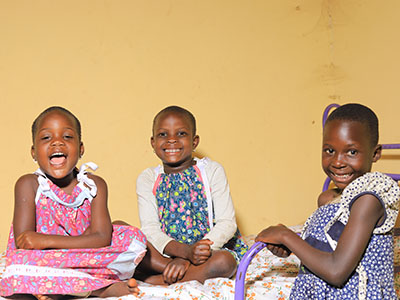 These three little girls have found a safe haven at the Bakka Kinship Project in Uganda where they now have reliable shelter, food, and most importantly, a bed to sleep in and a place to dream.
For these young girls, the simple luxury of having a bed is nothing short of a miracle. Can you imagine being so young and not having a place to call home or a warm bed to sleep in at night?
For many of the children we serve, that's all they've ever known. Whether it be a concrete floor or hay on the ground, many kids didn't know what it was like to have their own bed to sleep and dream in. But when you're struggling to survive, it's nearly impossible to dream at all.
And that was Abigail, Praise, and Joyce's reality before they found themselves welcomed into the loving arms of Bakka.
Now, these girls are filled with pure joy and gratitude for the generous donors who have made their newfound happiness possible. Every night, they lay down on their soft, comfortable mattresses and drift off to sleep with the peace of mind that comes with knowing they have a safe and secure place to rest their heads.
We owe a debt of gratitude to the kind-hearted donors who have made this possible. Your generosity has transformed the lives of these precious girls, and for that, we are forever grateful. To see the smiles on their faces and the light in their eyes is to witness the beauty and power of true generosity.
So here's to Abigail, Praise, and Joyce, and to all the children who call Bakka Kinship their home. May these Kinship kids – and Kinship kids all over the world – always feel loved, safe, and secure.
And to the donors who have made this possible, we thank you from the bottom of our hearts. Your kindness and compassion have truly made a world of difference. And we will never forget the incredible impact you have had on the lives of these amazing little girls and hundreds of orphans worldwide.
Written with Eddie, our field team member in Uganda.