The Chom Choa Kinship Project in Cambodia is on a mission to solve a crisis in their community as important as medicine in Kireka: securing access to education for children in need.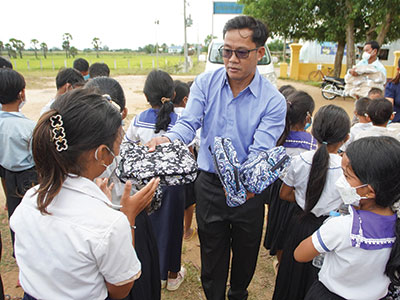 In July, Pastor Jack and his team packed 150 boxes of school supplies. The boxes included school bags, books, pencils, rulers, erasers, and other essential items for young learners.
The Prey Kabbas district in the Takeo Province is home to one of the poorest communities in the region. The village is at the end of a dead-end road. There is one school, which is surrounded by water-filled rice paddy fields. Students have to walk or ride bikes to reach the school, which is a problem when a child doesn't have a bike or doesn't even own a pair of shoes to wear. The school also doesn't have enough school supplies for all of the children.
Pastor Jack and his team distributed the supplies to the school, and the kids were overjoyed to receive them! The principal told Pastor Jack that his is the first team to ever donate to their school because of its distance from the main road. The road to get there is extremely muddy due to the rice fields. But Pastor Jack and his Kinship Cambodia team braved those muddy side roads and made their delivery of the boxes of school supplies, and they brought the Gospel of Jesus Christ to share, too. By the end of the day, every single child was able to fill their desk with all of the supplies they needed to have a successful school year, which is starting soon!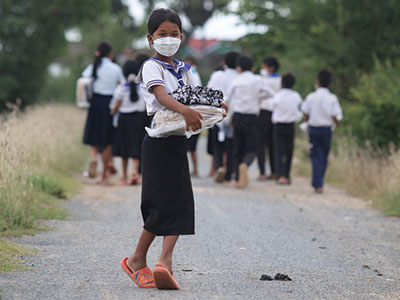 It is essential to support this rural community by lifting up and supporting the young children through their education. "We strongly believe that education is the only way to improve the quality of their lives," said Pastor Jack. "Alongside with education, we can share the Gospel of Jesus Christ to the children. The seed of salvation is being planted with these kids."
These regions of Cambodia are some of the poorest areas in the world. Please consider supporting the orphans and widows in this desolate region by designating your gift to Cambodia Kinship Projects.