When I first heard Kevin's story, it was in parts. You know how sometimes you get the feeling there's a whole lot more going on underneath the surface than you know? Kevin was like that.
He was the oldest of his siblings, but he was still just a young child. You could see on his face that he was strong, and he took his responsibility as the eldest brother seriously. But there was something else in his eyes: the look of a childhood that had been stifled, but was still clinging to life.
All we knew about Kevin was that he and his siblings had been dropped off at the Bosnia Kinship Project in Kenya by a social worker who said she would be back to get them in two weeks.
She never returned. It's been four years.
The "Before" Story
Sometimes as time goes by, children share more details about their stories. Their "before my life changed for the better" stories. Along with his "before" photo, Kevin shared a little more about his life before coming to Bosnia Kinship Project. His mother abandoned him, and he was living with his step-father, who not only beat him and his siblings every single day, he also abused him emotionally and psychologically in the process.
After Kevin's Rescue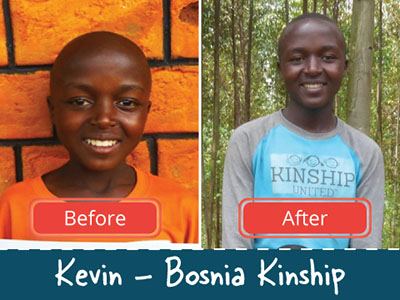 Kevin and his younger siblings found a safe and loving home in the Bosnia Kinship Project. Pastor Esau and his wife Everlyne, along with other caregivers, showed them real love. Under their care and nurture, the children flourished.
I recently received an updated photo of Kevin. I could hardly believe my eyes! He is almost starting high school, and is growing up into a young man! I did a double-take when I saw the picture, and the biggest thing that struck me was his confidence.
Today, Kevin and his siblings are living their dream life. They used to only dream about eating three whole meals a day. They couldn't imagine what it would be like to sleep in a bed instead of on the floor, with no blankets. And they certainly had no idea they could ever go to school!
And get this: Kevin wants to be an aid worker one day – a pilot, and help others who find themselves where he once was.
When you support Kinship United, you bring kids like Kevin and his siblings into warm and loving spaces.
With each gift you make, children who have known nothing but pain and loss will be able to heal and grow. And one day, these very children will be able to give back to others, just like Kevin plans to.
It all starts with you! Will you consider how you can do your part in helping more kids like Kevin?