In Kampong Thom, the central providence in Cambodia, poverty runs rampant. Most people work as farmers, literacy rates are low, and strict traditional customs are followed. None of this stopped Ouch Senghorn from following her dream of going to school, but when she was six years old, a witch doctor almost took her dreams away.
When Ouch was a young girl, her parents divorced, and neither wanted to be responsible for her. Her family met with the community witch doctor for advice. He declared that Ouch was bad luck for the health, wealth, and well-being of the family, and she was the cause of her parents' divorce. He recommended that they send Ouch away.
Her parents tried to persuade neighbors and close relatives to raise their girl, but after overhearing that she was bad luck, none of them accepted her. Her parents decided to send Ouch to work at a rice farm, where she would be away from her parents and could make a profit to send back home. 
Pastor Sokhim overheard the troubles, as the story spread quickly in the local community. He met with the family at their home before they could send Ouch away. Pastor Sokhim explained that every child is a gift from the Lord, and that parents have the privilege and responsibility of raising them according to God's will. The Pastor also encouraged education for the betterment of her future, instead of the cruelty of child labor. But Ouch's parents told him they didn't care.
That's when Pastor Sokhim asked if they would send her to the Chom Choa Kinship Project. They were hesitant, but they accepted.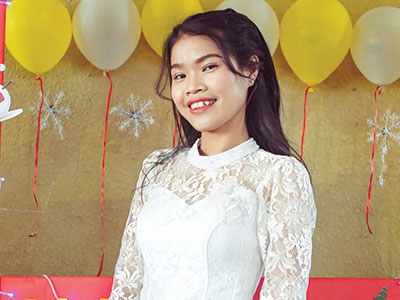 Ouch joined Chom Choa. Instead of working hard labor at a farm, she was able to attend school for the first time. Pastor Sokhim and the other staff at the Kinship Project paid close attention to her, but she fit in and excelled almost right away. Ouch accepted Jesus as her Lord, and she finds great joy in reading the Bible daily.
Now, Ouch is approaching her high school graduation. Her dream is to study at a university to become an accountant. She has already taken an entrance exam at Vanna Accountant Institute, the most accredited university in Cambodia with a specialization in accountant's studies. And thanks to her brightness, your support, and the Lord's grace, she passed the entry exam!
Ouch is not a "typical" orphan. She was an unwanted child of parents who did not care about her future or well-being. When they planned to send her away, you provided a place for her to go. This blessing in her life would never have been possible without your gifts and support.
Your gifts provide for these children: three meals a day, education, shelter, and every other little thing that it takes to raise a child. But beyond providing for their needs, you also make their dreams come true.