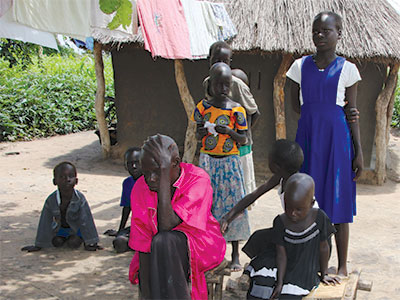 Widow Joyce is a remarkable, strong woman, but even she couldn't have prepared for the trials that life had in store for her. She is a blind widow and the mother of ten children, nine of whom tragically died during the ongoing war in her home country of South Sudan. Joyce was left to care for her surviving youngest child and her ravaged community's remaining orphans on her own.
Despite her blindness, Joyce was a fiercely independent woman. Before the war, she had been a peasant farmer, cultivating the land to sustain her large family. But when the conflict broke out in her community, she had no choice but to flee to Uganda for safety, leaving everything behind. Her home had been destroyed, and she had no idea what the future held.
But Joyce was a survivor. She refused to let her blindness hold her back from providing for her family. When they arrived at the Pabbo Kinship Project in Northern Uganda, just south of the South Sudan border, Joyce was overjoyed to be given a place to stay. The Kinship Project offered Joyce and the orphans a sense of stability and security, and she was grateful for the support they provided.
Despite the challenges, Joyce remained optimistic. She knew that she had been given a second chance, and she was determined to make the most of it. She is grateful for the kindness of the Kinship Project, and always thankful for the support you have given her.
Thank you for giving Joyce and the children with her a place to survive and thrive.