Cambodia is one of the poorest nations in the world. Many families live in poverty and cannot afford school supplies. Some can't even afford shoes for their children's feet.
Kinship Cambodia wanted to help fix that. So Pastor Jack and his team held two big end-of-summer events to uplift their poverty-stricken communities and spread Christ's love.
Right before the start of the school year in early August, Kinship Cambodia hosted a community school supply drive at the Ta Toak Kinship Project.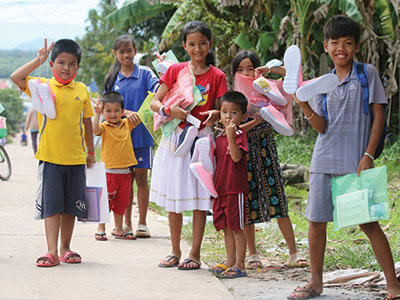 Your donations provided school supplies, Manna Pack meals, and shoes, which were distributed to all who came. The supply packs included school essentials, such as books, pens, pencils, rulers, pencil sharpeners, and erasers. They also included toothpaste and toothbrushes.
To the children's delight, brand new sneakers were given out as well. And some of the children learned their shoe size for the first time! The kids jumped up and down with excitement as they received their new gym shoes.
At the event, the children learned worship songs and heard stories from the Gospel. And they also learned how to pray. Pastor Jack and his team talked to them about what it means to thank God for the gifts and how to pray for wisdom, peace, and knowledge.
Over 100 children in total received the food, school supplies, and sneakers. But Pastor Jack and his team didn't stop there! A few weeks later, Kinship Cambodia held yet another outreach program near the Steung Hav Kinship Project. Another 100 packs of school supplies and pairs of shoes were distributed while also spreading the Gospel.
Pastor Jack, our "boots on the ground" in-country leader for Kinship Cambodia, led both outreach events. "This is a great opportunity for us to share the love of God and bring salvation to them," Pastor Jack said.
Pastor Jack was approached with an interesting question at one of the events, which reminded him of his faith. One father asked him why he is giving so much away for free. Pastor Jack explained that living as a Christian means not living for one's own interest, but instead living to glorify God by helping the needy, such as widows, orphans, and other vulnerable groups. It's important to remember what it means to be a Christian, and to spread that message, even when that dedication and selflessness astonishes other people.
These huge community events would be impossible without your generosity. In order to continue providing bountiful support to the communities while also rescuing and providing for orphans, Pastor Jack and Kinship Cambodia need your ongoing support.
Enjoy These Additional Photos