At Kinship United, we like to remind you about the incredible long-term impact you're making for orphans and widows overseas. Your support helps raise children into disciples and invests in their futures as young adults and beyond!
Recently your dedication made it possible for one pastor in Cambodia to tackle both of those efforts during one inspiring event.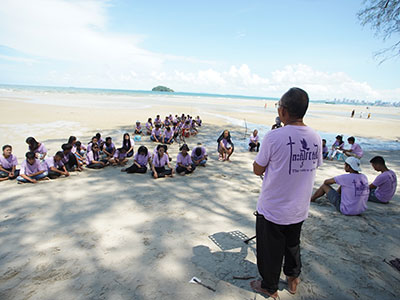 Pastor Jack and his ministry have built a beautiful tradition of organizing annual Youth Leadership Conferences to motivate the young adults in the community. But as with most public gatherings, severe COVID restrictions stopped the conference from happening for the last two years. So this year's event was a special one!
To kick off the conference, one hundred youths from Phnom Penh eagerly boarded their busses and made their way to the Kampong Som province. Once there, they broke up into groups and played get-to-know-you games, listened to inspirational speakers, sang and danced, played worship music, and participated in worship services. Ten people accepted Jesus Christ as their Lord and savior; five participants even got baptized right off the beach.
These incredible young people felt empowered and energized to hear God's word and were moved by the Holy Spirit. Leaving the conference, they felt motivated and committed to serving the Lord with their individual gifts. They believe God will use them to bring salvation to their community and to help introduce others to the kingdom of God.
None of this would have been possible without you. Thank you for your kind heart and dedication to helping children who were once lost and full of despair. You've restored their hope and made it possible for them to make new memories and have new experiences with other children like them. And you've introduced them to the Word of God and the power of the Holy Spirit.
They couldn't be more grateful for you. And neither could we.