What do you want your legacy to be?
If you want a legacy of changing lives and leaving a lasting impact on the world, you've come to the right organization. Because your support creates a long-term impact on orphans, widows, and their communities.
Your gifts offer aid and relief. But they're also investments in the children as they grow up inspired to help their Kinship Projects and neighbors.
The same way you helped them.
Your Contributions Invest in Children like Mark
At the young age of six, Mark tragically lost both of his parents to sickness and was taken in by his elderly grandmother. His grandma cared for him for as long as she could. But when she was no longer able to, she contacted our Buwanda Kinship Project in Uganda to ask for help. 
Mark was welcomed into his new home with open arms and was provided with a safe place to live and attend school, with a full belly and heart as he was introduced to the love of the Lord.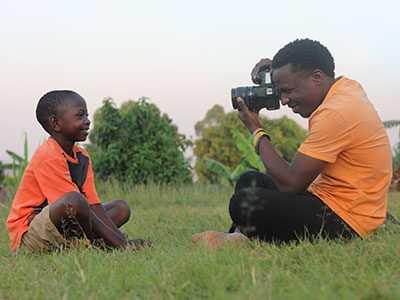 After finishing school, Mark entered into a mentorship with a Kinship Leader in photography. He's now proudly a photographer, a videographer, and a business owner, running his own wedding photography business.
On top of all of his accomplishments, this Kinship Project alumnus also helps take our Kinship Project photos in Uganda! He works tirelessly, taking shots to help keep you updated on what's happening in the field.
Without your support, Mark's future would've looked very different. Once his grandmother couldn't care for him any longer, Mark might've ended up on the streets begging for food or suffering through child labor or human trafficking to survive. Your contributions gave his grandmother a lifeline to make sure Mark got the love and care every child deserves. And now, as an adult, he's able to invest his time and talents into his community!
You made that possible.
Your Contributions Invest in Children like Sera
You also make it possible for Kinship Projects to build programs specifically designed to help nurture their young adults into young leaders.
Our Buloba Kinship Project in Uganda developed their weekly Kids Club program to bring together their Kinship Kids and children from the surrounding area to play games, do crafts, eat snacks, and engage in Bible lessons.
In addition to the obvious fun and learning for the younger children, this program is also used to train their older Kinship Alumni to become young leaders. After training, the alumni are invited to visit other Kinship Projects, bringing the Kids Club and the Gospel to even more communities simultaneously. These alumni get the opportunity to learn how to organize events and are mentored along the way, letting them get hands-on experience and guidance.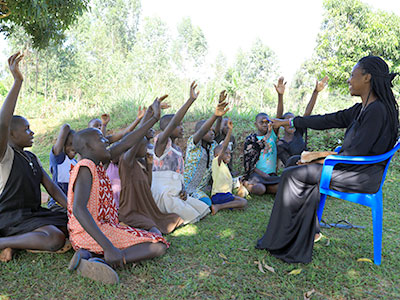 One of the alumnae in this program is Sera. Sera has lived at our Kireka Kinship Project in Uganda for the past ten years. Now, she's a young adult planning to attend college to study teaching. The Kids Club program has been able to equip her with new leadership experiences that will prepare her even more for her future in elementary education.
This is your legacy. Entire generations of children growing up to give back to their communities. Children who would've suffered and potentially lost their lives if it wasn't for you.
So smile and give yourself a pat on the back right now. Because you're doing fantastic work for the children around the world who need you the most.
Written with Eddie, our field team member in Uganda.