When COVID-19 hit Uganda, most people's biggest fear was of dying during this deadly pandemic. Little did they know that first, they would run out of food…
Psalm 68:5 says that God is "A father to the fatherless, a defender of widows." He has been faithful to not let the vulnerable poor in Uganda's Kinship Projects starve to death – thanks to you!
Last month, we asked you to join together with other dedicated supporters during More Daylight to Donate, our annual Day of Giving, to help provide food for hundreds of orphans and widows in Uganda.
One of those orphans was Peter from the Bakka Kinship Project. If you met Peter, you'd know right away that he's a hard-working young man. He has a powerful inner drive, and one day he wants to be a farmer so he can help feed the needy and helpless. But last month, he was the one who needed your help…
Throughout this year alone, floods ravaged Uganda, leaving behind destroyed homes and crops. Locusts hatched in record numbers and ate what little food people grew in their gardens. And the global pandemic completely closed their borders to international aid such as container shipments of food.
Because of this, Kinship Projects' usual food supply and rationing went out the window. At first, pastors were sharing extra food with starving people in their churches and communities. But as time went on, they began running out of provisions.
That's where you came in…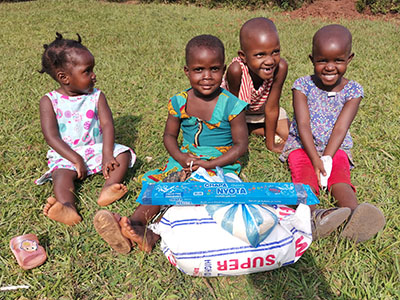 Through your life-saving gifts last month, Kinship Projects across Uganda were provided for. Your donations helped to purchase maize, beans, and salt. Kinship Projects were even able to purchase some soap, also desperately needed during this time.
Thank you so much for being the hands and feet of Jesus, and providing for the most vulnerable. Your support protects children like Peter from suffering and opens up a new world of possibilities for them.