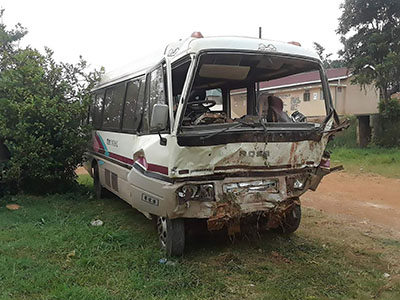 Days before Christmas, terrorists bombed a Christian church in Pakistan. Nine died – children, mothers, fathers - and dozens more were seriously injured. On New Year's Eve, the ministry bus in Uganda crashed. A few passengers – thankfully no children – were critically injured, and the vehicle was totaled.
You've been with us through so many tragedies, from the horrifying tsunami in 2004 (one Kinship in Indonesia has been a home to many orphans who lost their parents that day) to terrorist attacks and last year's famines and hurricanes. Many of you donated to rescue those orphans in Indonesia, to feed the starving in Uganda, to protect the vulnerable in the Dominican Republic, and more. 
Make a gift to help after disaster strikes and reach straight to the heart of someone in pain.
When families lost loved ones in Pakistan, you served them a Christmas meal, bringing them some joy in the midst of their sorrow. When a mother couldn't afford to bury her son after he was shot in a terrorist attack at his university in Kenya, you footed the bill, giving her dignity and grace in a time of despair.
As Kinship United has grown, so have the number of crisis situations within our ministry. And we need to be able to act fast when tragedy strikes.
Could you become a monthly sustainer of the Emergency Response Fund? A gift of any amount will make you a hero. By stepping up to the plate in an emergency, you could show a hurting world that love still conquers evil, and that Jesus is still King.
Can we count on you? Become a monthly supporter online today.