Kindness in contagious! And your big heart for helping orphans in need is reflected in the children themselves. Like James from the Bosnia Kinship Project in Kenya. This kind-hearted young man has found a passion caring for one of God's littlest creatures… baby chicks!
James joined the Bosnia Kinship Project family eight years ago after he was rescued with his four siblings. And since then, he's discovered that he loves to look after the Kinship Project's chickens and their chicks.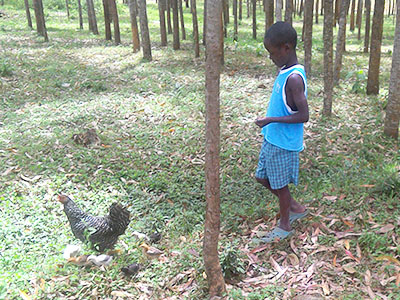 He feeds them so no one goes hungry. He makes sure their eggs are kept in a safe place inside the Kinship Home. And he even keeps a watchful eye on the chicks to discourage any potential danger, like hungry hawks looking for their next meal.
The Bosnia Kinship Leaders, Pastor Esau and his wife Everlyne, said they never worry about the chickens because James will surely take care of them.
In addition to showing children like James kindness, you're also helping teach them valuable lessons in responsibility and hard work by making it possible for Kinship Projects to introduce them to agriculture.
Far-Reaching Benefits
Agriculture plays an important role in our Kinship Projects. Between growing gardens and raising livestock, Kinship Kids are able to enjoy nutritious fruits, veggies, eggs, and milk whenever they need. They're also able to learn what goes into raising the animals and keeping gardens to harvest fresh produce, which are beneficial skills they can take with them into adulthood.
Thank you so much for showing our Kinship Kids compassion and making it possible for them to take part in the things they care about. Because of you, James is able to have fun looking after his feathered friends and also learn about the responsibility of raising them at the same time.
Would you like to help the Bosnia Kinship Project and other Kinship Projects start gardens, purchase livestock, or care for what they already have? Then click here to donate to Sustainable Agriculture.