There's something special about family, and one of the goals of Kinship United is to reunite families who have been broken apart. Sometimes, children come into our Kinship Projects whose parents are still alive. Due to reasons like intense poverty or illness, these parents become unable to care for their children. This is where our Kinship Projects step in, welcoming the children into a place where they can be cared for.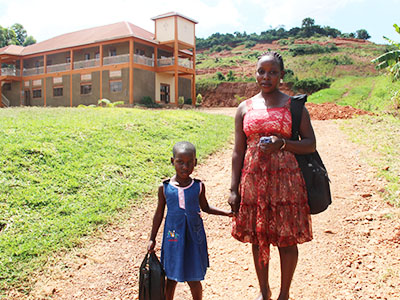 Leticia was one of these children. She originally came to the Kireka Kinship Project because her parents couldn't take care of her. Her father was dead, and her mother found herself in deep poverty. She was also sick to the point of being bedridden, and was unable to take care of her daughter. Fortunately, Leticia found a safe haven in the Kireka Kinship Project in Uganda.
In the Kireka Kinship Project, Leticia was being taken care of, but she missed her mom!  She grew healthy and happy again in the Kinship, but there's still something incredibly special about the bond between a mother and a child. And Leticia's mother wanted to set things right.
Wouldn't you do whatever you could to be reunited with your child?
After two years apart from her daughter, Leticia's mother was able to turn her life around. Due to the grace of God, she had been healed from the illness that had kept her bedridden, and found a job with which to support herself. She'd even come to know Jesus as her savior! She was now ready and able to take care of Leticia. What a miracle!
The two were joyfully reunited, and are now once again a family. Kinship United is grateful for opportunities to take care of children in need, but even more grateful when we have the opportunity to reunite children with their families.
To know that a family has been brought back together brings smiles to our faces.
Do you want the chance to make family reunification possible, and help more women get back on their feet and care for their children?
Learn about our Women of Worth Baking Outreach Program!