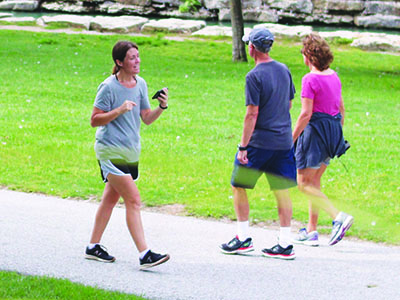 Kayla Cox, a longtime supporter of Kinship United, wanted to do something BIG. Something that would stretch her to her limits, and that would bless orphans and widows in a huge way.
So Kayla became an Orphan Rescue Champion, and created a fundraiser to provide a well and water storage tanks for the Jezza Kinship Project in Uganda. Her goal was to walk 100,000 steps in one day on August 31st and raise $10,000.
Amazing, right? Let's go back to the beginning of Kayla's story to see how it all began…
Almost two years ago, Kayla Cox started a new health adventure of walking six miles every day. She has been documenting her journey on her YouTube channel and encouraging others along the way. Recently, Kayla read an article on our website about the dangers children in Africa face every day as they walk about six miles for water. Right away, she knew she'd found her project as an Orphan Rescue Champion.
Let's Do This Together!
Kinship United worked with Kayla to help her choose the best project for her to fund, and she set out to help the Jezza Kinship Project with their water problem. The Kinship United team will work with you to provide pictures and information, as well as tips on how you can be even more successful!
So, What Happened?
Kayla did walk all 100,000 steps on August 31st, 2018! She walked over 43 miles in 17 ½ hours. And, she's passed her goal of raising $10,000 for the Jezza Kinship, with over 150 people donating to her cause!
What Kayla Has to Say
"This is the first time I've ever tried to fundraise in my life…It got me way outside of my comfort zone, and it helped me to grow as a person. I am so glad I did this. It has taught me that no donation is too small. And that being a part of something much bigger than myself is something I need to do more often. If you're considering it, do it. Don't sit and wait for the perfect time. Just do it. There will never be a perfect time! You'll learn as you go!"
What's an Orphan Rescue Champion?
It could be you! An Orphan Rescue Champion is anyone who champions the cause to care for orphans and widows by creating an easy online fundraiser on our website. Learn more about creating your own fundraiser here.
---
How to Be Successful in Your Fundraising - Pro Tips from Kayla
Encourage people to share on social media.

Video seems to have been a major help! Especially the live events on YouTube, because people could tell how important this was to me. 

Give people more of a way to get involved (invite them to start their own events in solidarity)

Don't Give Up! I realized the only way to truly fail was to quit. So, I kept at it.