One of the things that makes Kinship United so unique is our model. In a Kinship Project, widows and orphans find a home together, under the same roof where a church congregation worships. Widows serve as loving caregivers for the children, and the orphans give the women a fresh purpose in life.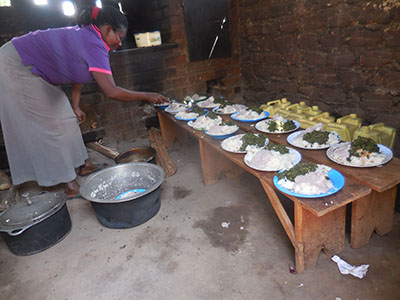 Margret is a caregiver at the Buloba Kinship Project in Uganda, and she feels blessed and rejuvenated at this opportunity. After living alone for the last 20 years, searching for a family and for significance, she finally has children to love and to raise.
Margret wasn't always alone – she married young, but things didn't work out with her husband and she couldn't make it as a single mom. Her daughters went to live with their dad, and she was not able to watch them grow. She always regretted that.
But today, Margret is a mother again, to a home full of children. She washes their clothes, cooks, cleans, bathes them, makes sure they make their beds and do their homework, and manages the whole home. And she does it all because she wants them to have the best and be the best they can be. She is a real mother to them, living out her true calling to love and care for these children.
Your gifts and support are what give Margret and hundreds of women like her a second chance. You give them a roof over their heads; clothing and personal items; and medical, dental, and vision care. More than anything, you give them the joy of belonging to a family.
Would you make a gift to bless Margret and her fellow caregivers today? For as little as $25, you can give a widow new clothes, glasses, kitchen necessities, medical care, and more. And best of all, you can be sure that 100% of your gift will be used to bless a widow.