"Nzoia Scheme", Kenya used to be a swamp. Then, an irrigation system was installed to help prevent flooding, so everyone can live there without having to flee every time it rains.
Spiritually, Nzoia was kind of like a swamp too. Until the Kinship Project opened, and gave people a place to run to when they were drowning.
Drowning in alcoholism, forced to drop out of high school, facing teen pregnancy, fleeing child marriage, reeling from rape, in a swamp of poverty with no way to climb out.
But thanks to generous sponsors of the Nzoia Kinship Project, this community is being transformed.
The Nzoia Kinship Project is a Church First
The biggest transformational force in Nzoia's community has been the Gospel of Jesus Christ. The Nzoia Kinship Project is a church first and foremost, with almost 60 faithful members, and it's growing! Pastor Fred faithfully preaches God's Word and is watching God change his hometown from the inside out.
The Heart Behind the Nzoia Kinship Project: Fred and Everleen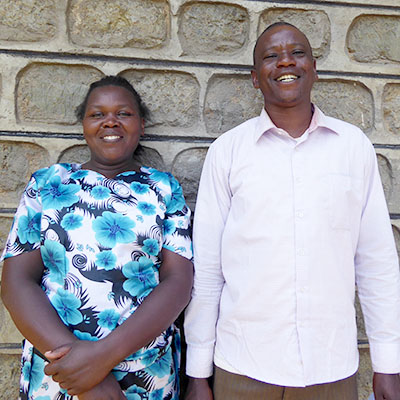 Pastor Fred and his wife Everleen don't just talk the talk. They walk the walk!
Pastor Fred grew up in the Nzoia region, and always wanted to do something to help his community. He didn't have it easy, and had to drop out of high school to help his parents with their farm but he eventually finished his studies and became a licensed social worker. Now, he has six children of his own and is "dad" to 17 more precious orphans.
His wife Everleen is fiercely passionate about helping girls stay in school, primarily because she was forced to stay at home after 8th grade. She advocates for young women by encouraging their families to help them finish high school, and she also helps women start small businesses. To top it all off, she's a mother of six and now "mom" to 17 orphaned children.
How do You Practice True Religion? Caring for Orphans and Widows
Fred and Everleen, along with wonderful sponsors who support the Nzoia Kinship Project, are giving refuge to children who have been orphaned, abandoned, or abused. In a region where child rape was an accepted practice, and many families give their young daughters away in marriage, there are so many children who desperately need protection. And thanks to you, 17 of them are now safe and loved within the Nzoia Kinship Home's walls.
Widows Monica and Dorcas also find security in the Nzoia Kinship Home and have a new purpose and calling in life as they are entrusted with the care of the children.
Blessings from Kinship Project Sponsors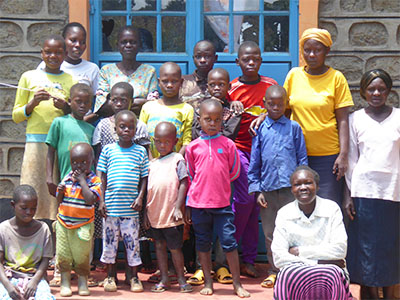 Generous sponsors of the Nzoia Kinship Project have outfitted it with everything it needs: clothes and uniforms for the kids, school books and paid fees, beds and bedding, and a kitchen. Thank you for making Nzoia a refuge and a safe place for these women and children!