Your dedication enables life-changing rescues, transformations, evangelism, and more! Read some of the news from Kinship Projects worldwide to see the difference made by you.
Kenya: Confidence for Girls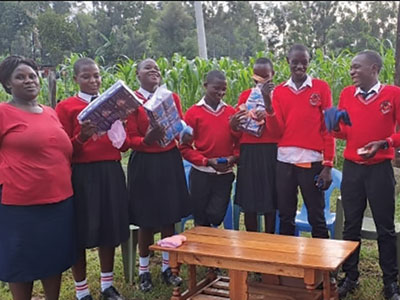 Kinship Kids in three Kenyan Kinship Projects received a big surprise at the start of summer. The kids at the Nyasi, Emmanuel, and Aruba Kinship Projects received new Crocs sandals and new underwear, and the girls got a big supply of sanitary napkins.
Our field team member Florah said, "I felt so happy for them. I was so touched, thank you for giving our girls confidence!"
Uganda: When a Community Renovates its Church
The Kyengera Kinship Project has nearly completed a transformation. Thanks to your support, they are able to expand the church building and add new brick fire cooking stoves in the kitchen. The entire community has joined in. Young and old, church members and non-members, offered helping hands to transport supplies and make bricks. Once the project is complete, the church is planning to host a big event to celebrate!
Cambodia: Bible Camp and Baptisms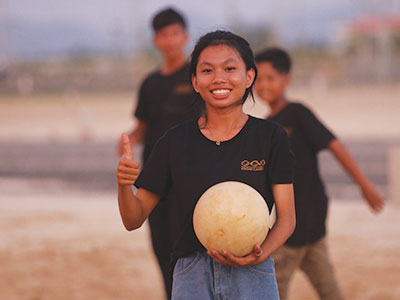 The Kinship Cambodia ministry hosted their annual youth camping trip. The theme of this year's trip was the story of Gideon and Judges 6:12: "The Lord is with you, mighty warrior!"
Over 120 kids from five provinces of Cambodia had a fun weekend of Bible study, volleyball, camping, and worship. Kinship Kids from different Kinship Projects met other orphans like them for the first time. They were inspired to answer God's call and bring change to their communities. Ten kids were baptized during the trip!
Check out the photos and video of this camping event, and enjoy the life-changing weekend you helped enable with your support!
Dominican Republic: You Transformed Cayacoa
Imagine the amount of laundry in a Kinship Project caring for more than a dozen orphans! Thanks to donors like you, the Cayacoa Kinship Project has been able to make many big changes. The repair of a broken window maintains safety and security. New exhaust fans keep cool, healthy air flowing through the girls' dormitory. And the biggest change of all: the new washing machine!
We are deeply grateful for the opportunity you have granted us to make a positive impact on the lives of these children. The benefits they have received from your love are immeasurable. Thank you for letting these kids know they can rely on you and that you will never give up on them!