Shekinah Glory Community Clinic: A Blessing to the Rift Valley Community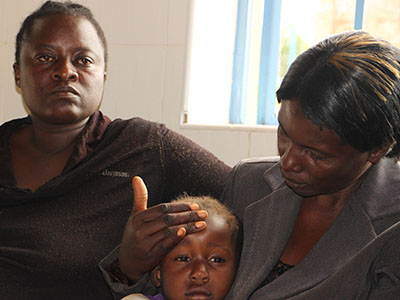 Imagine living in a village of 6,000 people with no access to medical help. The smallest infection or injury would require you to walk 20 miles to the closest hospital.
If you could make it there.
In a situation like this a small, local clinic stocked with medicine and supplies can mean the difference between life and death.
Shekinah Glory Community Clinic is such a clinic. This clinic is located in Kitale in the Trans-Nzoia region of Kenya's Northern Rift Valley. It is about thirty minutes away from the government hospital. However, the government hospital lacks enough medical staff due to poor working conditions and corruption. And even worse, the hospital often lacks running water and medicine to take care of the people who walk through the door.
Due to these conditions patients are forced to self-medicate from illegal local drug shops that often carry expired and substandard medicine. Children die due to delayed diagnosis of preventable diseases like malaria. Laboring moms with complications have to sit one hour on a motorcycle over speed bumps and pot holes to reach the city hospital that has a delivery room.
Check out these statistics:
- 56% of Kenyan women deliver at home, with home births being more common in rural areas and only 44% of births were assisted during birth by a health care professional (doctors, nurses or midwives). Maternal mortality in Kenya results from the interplay of social, cultural, economic and logistical barriers, coupled with a high fertility rate and inadequate and under-funded health services.
- Two-thirds of under-5 deaths are post-neonatal and caused by simple preventable diseases, mainly pneumonia and diarrhea. Kenya missed its Millennium Development Goal (MDG) target to reduce the under-5 mortalities by two thirds between 1990 and 2015.
Many of the under-5 deaths could be saved each year if proven interventions were taken. Such as making antibiotics for pneumonia, oral rehydration therapy for diarrhea, and treated mosquito nets to prevent malaria more accessible and affordable.
The Shekinah Glory Community Clinic was built to tackle the "Orphan Crisis" by reducing the amount of deaths from curable and preventable illness. The clinic provides free and/or low-cost healthcare services accessible to the entire Rift Valley, so they can get well again, and take care of their children in their best health.
The Shekinah Glory Community Clinic, which is located just behind the Ephraim Kinship Project, opened in Kitale, Kenya in October, 2015. Their goal is to save lives and bring healing to the local community. And their strategic location allows them not only to provide physical healing, but also to introduce their community to the hope of the Gospel and the grace of Christ.
The clinic provides parents who may be overwhelmed by a medical burden or facing a terminal illness the opportunity to surround their children with love and a church-family while in the midst of hardship. The Ephraim Kinship family cares for and encourages the sick in their community, and if the parent should pass away the child stays at the Kinship Home in a loving, and godly family.
The most incredible aspect to the Kinship Medical Clinic is the range of services offered to its patients. These services haven't been accessible to the community before now and for some patients it may be the first time in their life they'll receive medical attention from a professional.
HIV/AIDS testing is among the clinic's top priority with close attention being paid to prevention. And the clinic is already seeing improvement in this area.
One example is two HIV positive parents who were unaware of their HIV diagnosis prior to coming to the clinic. After being tested and receiving their diagnosis the doctors shared with the parents the importance of their own health and how to better take care of themselves. Then the parents had their three young children tested as well, creating a more promising future for their entire family – what a blessing! 
Services the Clinic is able to provide to the Rift Valley community include:
- Malaria and TB testing
- HIV/AIDS testing
- Testing/monitoring blood sugar
- Family planning/counseling and pregnancy tests – emphasis on teenage pregnancy prevention
- Maternity services and prenatal care
- Vaccinations
- Wounds and simple fracture treatment
- First response emergency services via ambulance to City Hospital
- Routine Surgeries
- Nutrition outreach and education – included through Ephraim Kinship Home community feeding program
Program Sustainability
The Shekinah Glory Community Clinic has a goal of a self-sustaining model. Because of this model, 100% of fees collected from patients are used to help cover operating costs.
Payment for Services
Payment for service is determined by a social worker at initial intake. The social worker assesses the level of a patient's financial ability on a sliding scale. Some patients receive services entirely free while others are eligible for a reduced payment service. The social worker considers the patient's level of income, third party resources available, size of family and the patient's financial status within the family when deciding what level of help they are eligible to receive.
As you can imagine, the opening of the clinic has created lots of joy within the community and since its opening, hundreds of patients have already been seen! Access to the clinic gives patients the opportunity to become educated about their health and to take control of illnesses and life-threatening diseases they may face.
Services that weren't accessible to this community in the past have finally become available, and it's a reason for everyone to celebrate!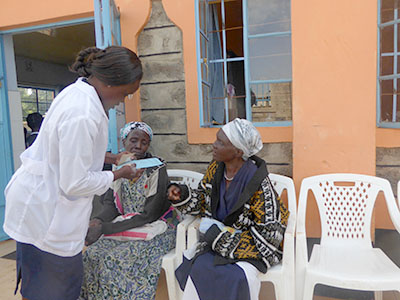 The clinic and its workers are excited about how they will continue to serve their Kinship community, but they can't do it without your help!
Will you consider giving to the clinic in order to keep it stocked with medical supplies so it can best serve the community?
The two primary needs for the clinic are for staff and medical supplies. Please consider supporting the Shekinah Glory Community Clinic by giving to meet their needs. 
Clinic Staff: Need $2,100 Monthly
- 1 or 2 Physicians based on funds
- 2 trained Nurses
- 1 Social worker
- Lab technician
- Security Guard
- Cleaner
Medicines and Medical Supplies: Need $1,500 Monthly 
Become a Clinic Supporter Today!
Will you make a gift to help the Clinic give struggling families the best medical care possible?